ATM Self Service Coin Operated Pizza Vending Machine for Sale Price in UK
Are you in the market for a pizza vending machine?
Hommy has you covered with the best selection of pizza vending machines for sale. With our easy to use machines, you can vend pizza without any hassle.
Our machines are perfect for any business, whether you're looking to start a pizza vending machine business or simply want to add one to your existing business.
Introduction
ATM self service coin operated pizza vending machine is a new type of vending machine which can offer you pizza. It has a built-in refrigerator which can keep 48 10-inch pizzas at a temperature between -8?? and 10??. The machine is also equipped with an infrared house size :400X400X300mm and power :3000W. With this machine, you can get your pizza freshly made and hot, without having to wait in line or for someone to serve you.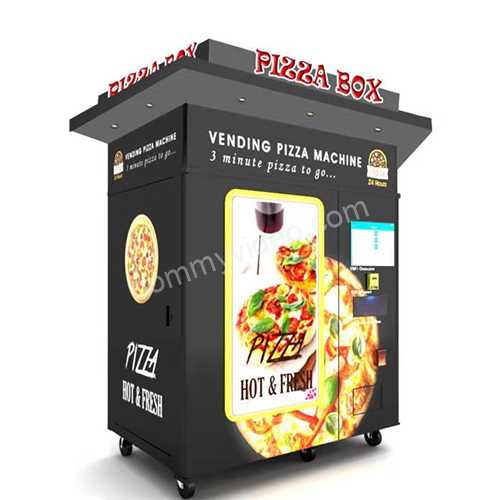 Features
The ATM self service coin operated pizza vending machine is a kind of food machine mixed use, which is a combination of food warming machine and automatic vending machine. Compared with ordinary automatic vending machines, it has a more complex design, higher added value, strong market prospects, and wider application.
How To Use
Hommy's ATM self service coin operated pizza vending machine is one of the most user-friendly machines on the market. With a touch screen interface, you can easily select your pizza of choice and have it delivered fresh and hot in minutes. And because our machine is coin operated, you don't have to worry about carrying cash or waiting in line for your pizza.
Potential Benefits In UK
In recent years, the number of people using coin operated pizza vending machines has increased significantly in the UK. This is due to the fact that these machines offer a number of potential benefits for both businesses and consumers.
Some of the benefits of investing in a coin operated pizza vending machine business include the following:
1. Increased foot traffic: These machines are usually located in high foot traffic areas, such as shopping centres and train stations. This can help to increase foot traffic to your business.
2. Increased sales: Coin operated pizza vending machines can help to increase sales for your business. This is because they provide a convenient way for people to purchase pizzas without having to queue up at a traditional counter.
3. Increased brand awareness: Having a coin operated pizza vending machine can help to increase brand awareness for your business. This is because people who use the machine will see your company??s logo and name every time they use it.
Why Choose Hommy
As the popularity of pizza vending machines continues to grow in the UK, so does the number of businesses investing in them. If you're thinking of starting your own pizza vending machine business, now is the time to do it. Hommy is a leading manufacturer of pizza vending machines, and we can help you get started with your own business. We offer a variety of machines to suit your needs, and we can also export to the UK. Contact us
today to learn more about our products and prices.

Detail Images